Teachers and trainers, students, employees, employers – COVID has changed the way work and learning is done.  The quick term has been 'pivot' – Merriam-Webster has several definitions, but the one that's probably the most relevant:
"Pivot … to adapt or improve by adjusting or modifying something (such as a product, service, or strategy) "
Adjust or modify strategy.  Necessity as the mother of invention.  Or, more specifically as Plato put it, "Our need will be the real creator".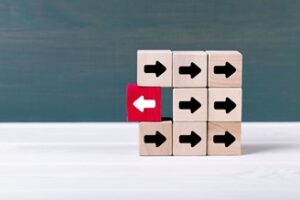 Need has triggered the development of new tools and the speedy enhancement of existing tools – some of these tools work, some don't.  We would be hard pressed to find anyone who hasn't participated in online meetings, conferences or even social events or team building exercises since Covid began.  We all needed to come up with a way to keep going, keep in touch.
For the trainers, the requirement is to find a way to convey the needed information while still managing the challenges that arise in the environment.
Technical challenges with hardware are probably the easiest to recognize – a slow internet access or computers, getting a workable screen setup, possible camera and microphone issues.  Then the other, 'softer' issues need to be considered – a physical or ergonomic environment with a true learning space free from noise and distractions of pets, children, spouses and noise from outside (is that even possible?); and the emotional environment that can leave a person stressed, with low energy levels.  With our global approach, this can even include thinking about the circadian rhythms that leave the student in an evening mind frame when the instructor is fresh from their morning coffee.
I believe we need to think in five key dimensions to make online learning effective.  I've summarized them as STICK – Sequence, Technology, Interaction, Content and Knowledge. I'll go into these in more detail in the next few blogs… In short, though –
Sequence – How can we sequence the material to maximise engagement, and to address learning preferences?
Technology – What technology can we use, what alternative technologies are available and what are some workarounds should either fail us?
Interaction – How do we engage the learners in an interactive environment that helps overcome some of the ongoing fatigue we all feel after months of Covid lockdowns, screen fatigue and – yes – pivoting?
Content – What is being presented?  Is it still relevant?  Is it still necessary?  How do we keep it fresh?
Knowledge – Knowledge transfer needs to be performed, assessed, reviewed, and amended as needed – how can we effect the transfer of knowledge, ensure competence is achieved, address changes in attitudes and support values?
Online and remote learning is going to be the way of training for the foreseeable future, especially with ongoing pandemic concerns.  Borders open and close with distressing regularity, health precautions can change in-person learning to remote at the drop of an outbreak.  And, we have learned valuable lessons that we can take into a 'covid-normal' environment.
Our responsibility is to keep on top of the developments, ensure the collection of information and the transfer of knowledge continues effectively, regardless of how it's done – tasks, brainstorming, providing self-learning, or a more straightforward classroom approach.  We can also have some fun along the way!
As we move to a 'post pandemic' environment, the ability to implement a viable online training structure remains valid.  We may look at hybrid environments, providing online training in conjunction with in-person training.  It makes sense to move forward with effective use of technology building on the 'wins' of the past months.
And that is a 'pivot' that will always be with us.
Jillian Carson-Jackson, M.Ed, FRIN, FNI